Our brandstory 
We believe you can only make the world's best boots if you put craftsmanship above all else. It's what has spurred our family business to search always for a better way, throughout its 60-year existence. With each new generation, we have driven innovation a step further. To meet the challenges of each new generation of customers. From farmers who wear Bekina boots to secure both their footing and their daily tasks. To fishermen who stand firm on deck, ready to land the catch of the day. Food and beverage workers who demand the highest standards of safety and hygiene. And even serious amateurs who appreciate professional quality. In any profession, in any application, we develop the best possible boots. So that anyone who wears them can apply their own craftsmanship in total safety, comfort and confidence. Step after step. Mile after mile.
Because like our boots, we at Bekina go the extra mile, with our sights set firmly on the future. And like the people who wear them, we dedicate our Belgian craftsmanship to adding sustainable value at every step. It's why we chose resolutely in favour of polyurethane from the very beginning. This extremely high-quality material ensures that Bekina boots last up to 4 times longer. Making them a solid investment for our customers, while drastically reducing the footprint of production, transport and waste.
It's a way of thinking we apply to every facet of our organisation. From our production processes fuelled by 100% green energy to our concrete initiatives for stimulating biodiversity around our buildings. And it's how, together with our extended family of customers, employees and partners, we contribute to making a better world.
Inspired craftsmanship is in our blood at Bekina. Driving our relentless desire for innovation, fuelling our unwavering commitment to sustainable quality and culminating in the world's finest quality boots.
Bekina. Innovation through craftsmanship.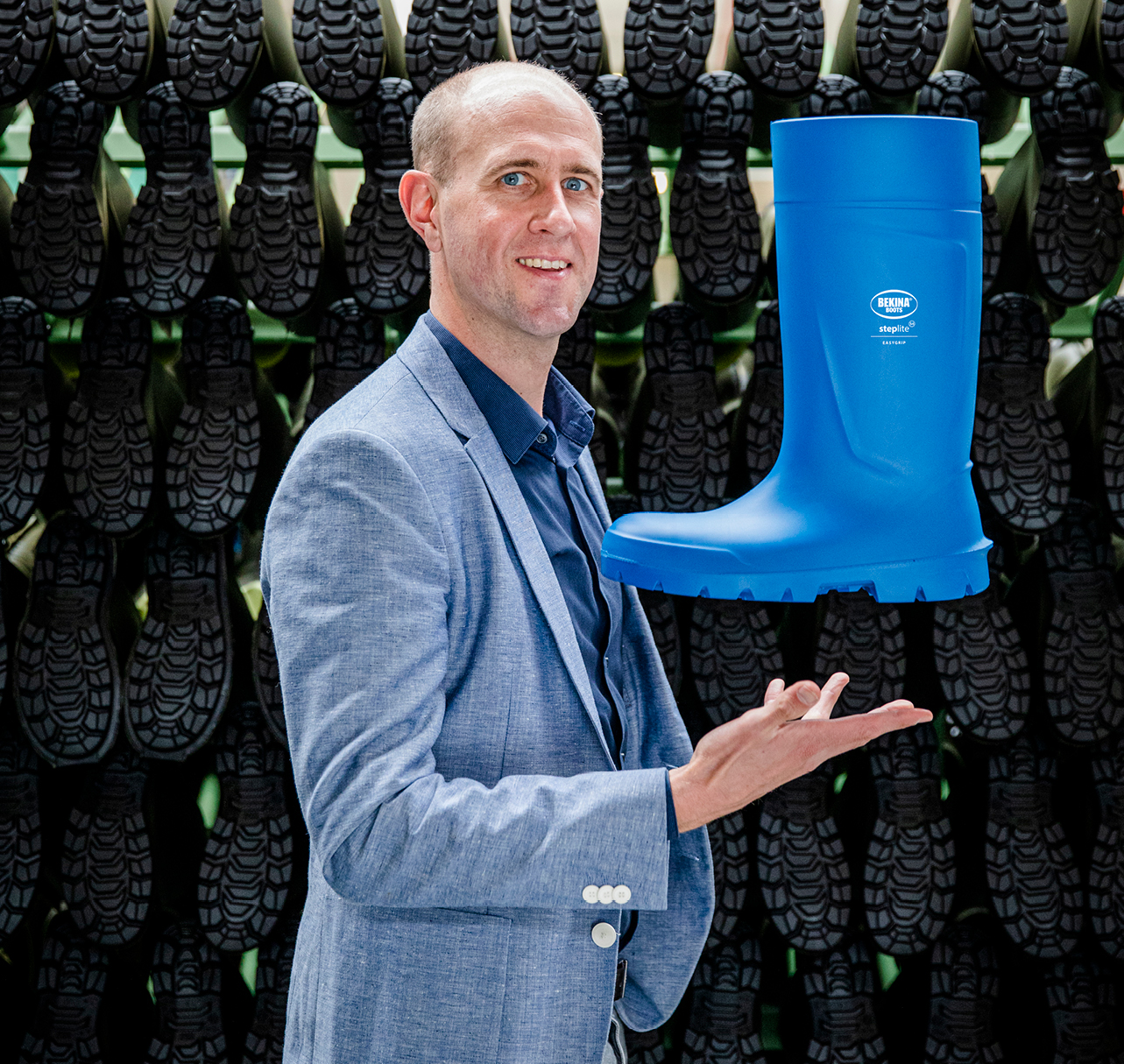 "The niche markets in which we are active set high demands in terms of safety and comfort as well as quality and durability. Bekina Boots takes both the price-quality ratio for professionals and the comfort of the wearer to heart. We strive for improvement, innovation and a sustainable approach across the board, each and every day."
0
employees
0
pairs of wellies per year
0
export countries
Sustainability and innovation
Bekina Boots was founded in 1962 by the Vanderbeke family and has grown from a family of cobblers to one of the leading international players on the polyurethane safety boots market. In the meantime, the third generation is standing at the helm of the company. In 60 years of experience, we have been anything but idle. With our in-house state-of-the-art laboratory for quality control and innovation, we are constantly improving the various features of our boots. 
We developed our own material, NEOTANE: a high-quality polyurethane that is 40% lighter and lasts three times longer than rubber and PVC. Not only does this mean a higher standard of quality for the wearer, who will not have to replace his or her boots as often; this also helps us contribute to a better environment. 
Our values
Agility is key at Bekina. As a company, we strive to be agile in the face of the market and to offer the right solutions in all circumstances. This is reflected in the innovative technology behind our products and in the commitment we deliver to society.
Our history
Bekina founded by Denis Vanderbeke

Bekina Boots founded in 1962 by Denis Vanderbeke, a shoemaker in the rural village of Kluisbergen. He supplied handmade rubber boots to farmers in Belgium.

Georges Vanderbeke, second generation

Georges Vanderbeke, Denis's son, joins the company. Georges had a business instinct and developed further market expertise with a view to growth and internationalisation. He started up the production of pressed rubber safety boots and set up sales outlets in Western Europe. In doing so, he laid the foundations for the internationalisation of Bekina Boots. In addition, Georges established Bekina Indurub as one of the first manufacturers with injection moulding technology for plastics and rubber. This resulted in a technical, ergonomic and price advantage in the market for slatted bases and ladder pads, among other things. Two focus markets for Bekina Indurub to date.

Further internationalisation with Georges

Georges used his language skills and commercial knowledge and flair to further strengthen Bekina's presence on the international stage. Increased exports of Bekina boots, including outside Europe. He organised the development and expansion of the production of NBC overshoes, supplying the Belgian, Danish and Qatar armies.

Devastating fire

As the sole manufacturer of rubber boots in Belgium, Bekina Boots was preparing to celebrate its 25th anniversary. However, it suffered a terrible blow on 24 October 1987. A devastating fire burned down the whole company overnight. Everything was destroyed and had to be rebuilt. Thankfully, all the employees willingly played a part in helping to rebuild the company. Thanks to their hard work and cooperation, Bekina became fully operational again in just eight months. Staffing, production and sales all returned to the same level as before the fire, but within a brand-new company!

Launch of the production of polyurethane boots

Bekina Boots established an even firmer foothold in the heart of rural Flanders with the construction of additional warehouses. Georges took the strategic decision to start manufacturing polyurethane boots, taking another major step forward. POLYURETHANE BOOTS are 40% lighter than rubber or PVC boots, and last three times longer. This decision proved to be a winner.

Establishment of Bekina Compounds

Where we had previously made rubber compounds for internal use, Georges decided to set up Bekina Compounds as a separate entity. The company specialises in the production of coloured rubber compounds tailored to the customer's needs. The conscious choice for colour compounds has been there since the outset, always with unique specialist properties. We are the specialist of specialities!

Expansion

Bekina Boots and sister company Bekina Indurub were growing so fast that Bekina Indurub moved to its own brand-new 5,000 m² production facility.

Thomas Vanderbeke, third generation

Thomas Vanderbeke, Georges' eldest son and the 3rd generation of boot-makers, joined the Bekina team. From the outset, Thomas placed great emphasis on effective marketing, process optimisation and product innovation.

Move to our new offices

Bekina Boots moved into its brand-new headquarters. This feat of architecture is synonymous with daylight, transparency, comfort and sustainability. The lab with state-of-the-art measuring and testing equipment for daily testing of the quality of our boots guarantees intensive cooperation with accredited test institutes worldwide. The Bekina Compounds lab is also housed here.

Establishment of BeSealed

The common thread throughout the history of the company is that of the SPIN-OFF activities. The creation of the BeSealed brand was the fourth big success in this regard! BeSealed markets products for the waterproofing of concrete structures in the construction sector. The self-expanding strips are produced by Bekina Compounds. In turn, Bekina Indurub supplies injection moulding products for a variety of complex sealing problems. The integration of all our know-how!

Launch of Neotane

Launch of our own polyurethane compound (Neotane) developed in-house and the innovative processing of this to create NEOTANE TECHNOLOGY - unique to Bekina Boots.

Introduction of RFID tag

Bekina Boots continues to focus on innovation. For example, every pair of boots is provided with an RFID tag as standard. This ensures the unique identification of each pair of boots with track-and-trace capabilities.
This offers numerous possibilities, including for distributors and end users, from efficient stock management to automatic access control via the work boots.

Bekina Today

Bekina Boots, together with its 3 sister companies (Bekina Indurub, Bekina Compounds and BeSealed), is part of a solid Belgian family group of companies that has acquired an international status with super-comfortable safety boots that can be found in more than 58 countries around the globe: from New Zealand to Canada and from Chile to Russia. Today, millions of professionals wear work boots from Bekina Boots in a wide range of sectors throughout the world, including agriculture, fishing, construction and the food industry, as well as for leisure activities! Bekina Boots products can be worn in extreme working conditions - all day and every day - providing users with the safety and comfort they deserve!