Bekina Boots are liked and loved all over the world!
Hello my name is Kiya. I work in the agriculture industry. Have done for about 5/6 years. When I started milking I realised I needed to actually support my feet. Walking up and down concrete 8.5 hours a day knackers your feet out if your wellies are not half decent. The soles go and it all goes downhill from there. Most wellies I've had within 6 months I've got plastic bags on my feet because they start to leak etc. I can happily say that since buying Bekinas I've never had to do this. Nor have I had sore feet! I also use my Bekinas when I am doing my horse. Usually ankle deep in mud. Because the boots are so lightweight it means your not going to have to worry about getting stuck! So If your struggling with sore feet or leaky sole less wellies. Then please try Bekina Boots and I can honestly say I'd be shocked if you were disappointed!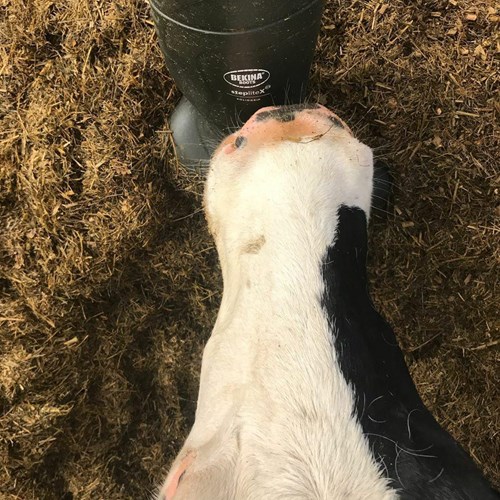 These boots don't look like your typical boots you'd find in a fishing boat. That's cause they're not. They are way better. Most other boots out there are tight around the toes and loose around the heels. This causes them to feel like they are going to fall off my feet when walking. Bekina StepliteX StormGrip boots are the opposite. They are roomy around the toes so you can through on an extra pair of socks or just wiggle you toes around. Then the heel is well built so you don't feel like your foot is going to slip out. I would highly recommend these boots to anyone.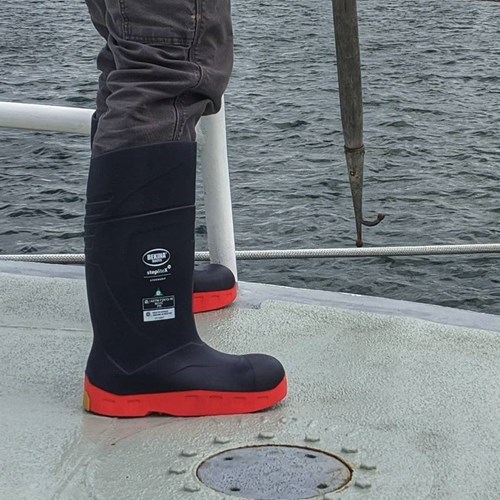 I love my Bekina farm boots. They are light weight and easy to slip on and off. I can wear them all day long (without having to repeatedly pull up my socks like my last boots). I am surefooted on my farm in wet soil as well as frosty and snowy conditions but best of all they keep my feet dry and warm when washing hundreds of pounds of vegetables. I recommend them to everyone!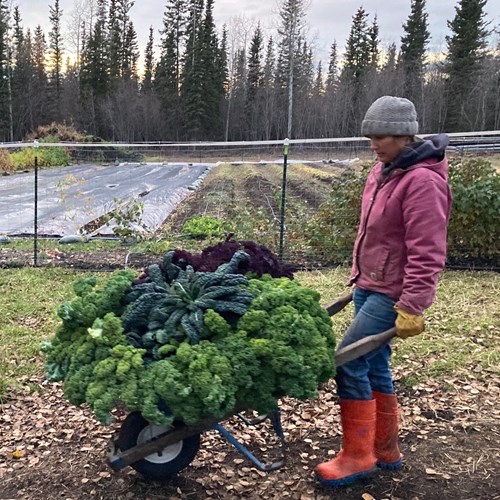 My name is Megan Turner, from Mccarthy, Alaska. I have a pair of Bekina boots and I am obsessed!! Not only are they the best go to boot for Alaskan Bush life they are super comfortable, warm and totally versatile. From working in the garden, riding 4 wheelers to chopping wood, I am safe and stylin'. I get endless compliments on the color scheme and I love the silky feel of the Neotane upper that I can just step right into. No more of 'those' brown boots for me. Bekina Boots for the win!
I have been a commercial fisherman for 30 years. I got my first pair of Bekina's just this last season. I must say that after all these years wearing a different brand, these were exceptional. A key difference was the feel of the footbed, as I have sort of wide feet. The Bekina boots were very comfortable and never felt tight or constricting while also offering great support. Additionally, putting these boots on is a dream comparatively. I always had a struggle getting into and out of my old boots.  My feet would also sweat a lot in my old boots and I truly never had this issue with the Bekina Boots, which was a huge plus. Fishing in rough weather on slippery decks was the real test for these boots and I can say with confidence that they are far superior to any other boot I have worn. No slipping, good traction, ultimate comfort...what can I say? I will be a customer for life!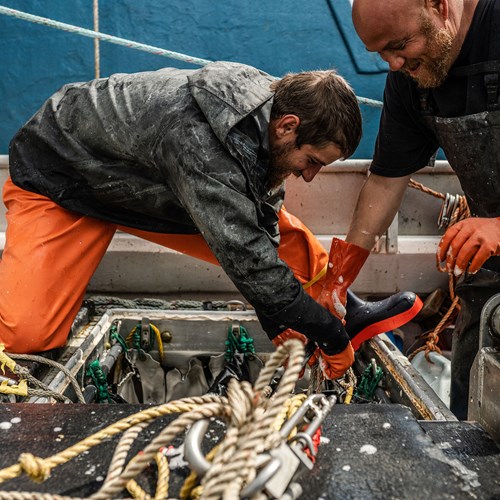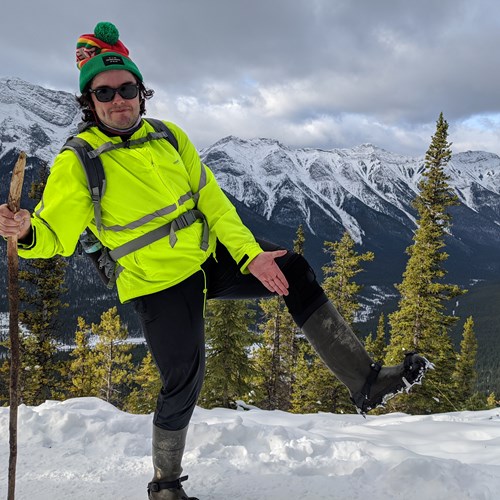 When I climbed Ha Ling Peak (2407m), I was wearing my Bekina StepliteX SolidGrip steel toed boots which I originally purchased in 2016 when I was a commercial lobster fisherman on Prince Edward Island. These boots have been in both the Pacific and Atlantic Oceans and everywhere in between in Canada! These boots performed better than anyone expected! Everyone told me that I was crazy for wearing them up a mountain but with a good pair of wool socks I hiked up 2,407 meters and didn't suffer even one blister! My Bekina boots are easily the most rugged, durable, and dependable footwear that I own!
The distinctive look of my Bekina StepliteX StormGrip boots has attracted attention from both expedition team members landing on Goudier Island, and professional sailors I meet on board the ships that visit us.  And I'm happy to tell them that the performance of the boots more than lives up to their looks.  I wear the boots daily to travel back and forward to expedition ships in their zodiacs, and I find they are in their element around the edge of the water.  I never have to worry that I'll slip on wet rocks, on the pontoons of the zodiac, or while I'm ascending boarding ladders on ships.  I also carry out regular environmental surveys along the shoreline of our island, looking for and removing waste that washes up from the sea, and I feel super confident walking over the wet ice-polished rock and uneven cobblestone beaches the intertidal zone in my Bekinas.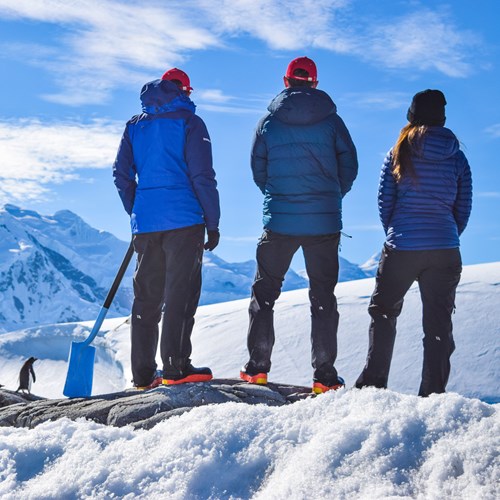 Bekina boots keep my feet warm and COMPLETELY dry. Cleaning the boots is also super easy, all the sand and salt came right off. My boots fit well and are super comfortable. I really like the insulation—it's enough to stay warm, but not so much that it takes over the shape of the boot. There is plenty of room for thick socks if I want them.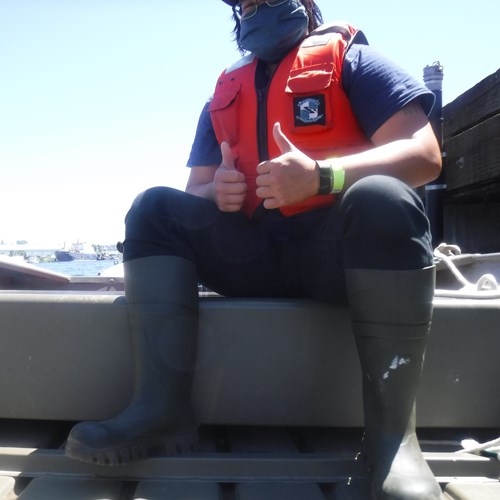 The Bekina boots' performance was great in both rain and sun. I really appreciate the traction—feel surefooted in wet conditions while wearing the boots. The boots are super flexible, which makes it easy to turn down the tops—ideal for those hot days when your feet need all the help they can get. Bekina boots were a breeze to clean up after getting them mucked up.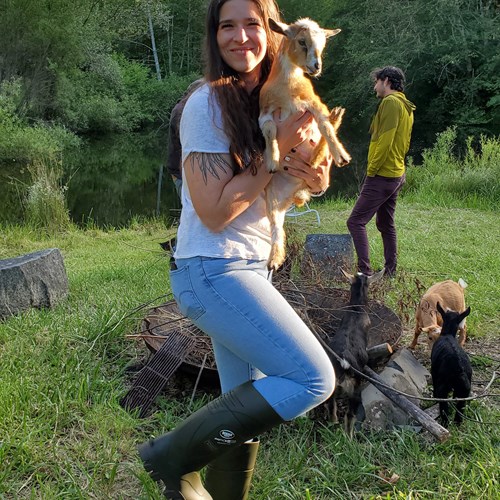 I'm feeding my goat, Nina. I had some other Boots that had a hole in them, so I got rid of them when I got the Bekina boots. The boots washed off well after stepping in goat poo.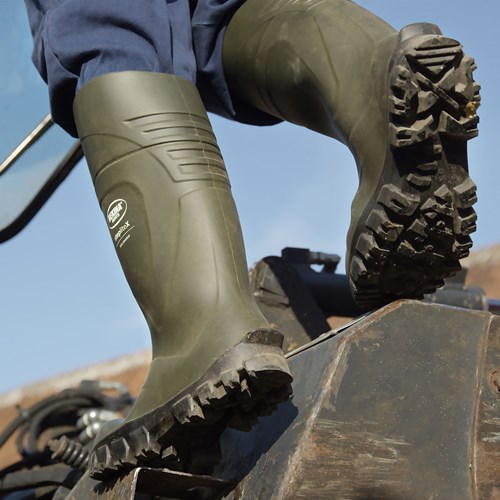 Hi there. I just want to say thank you to the makers of the Bekina StepliteX SolidGrip boot. It literally saved my life. I was out farming on December 2nd at 11:00 at night when a bucket from the front loader of the tractor came down on my leg. I reached for my mobile phone and it was not on me. Thanks to the steel toecap on my Bekina boot, it held the bucket up enough for me to pull out my foot. I made it back into the house when I collapsed. My leg was badly broken but thanks to the steel toe cap, I was able to get my foot out. Otherwise I would have been trapped under the loader and would not have been found until the next morning. On a night where it was -5 °C outside, I definitely would not have survived. The bucket must have weighed just under 1 ton so the steel toe cap withstood a lot of pressure. I am very thankful to be recovering from a broken leg at the moment and to be here. I hope this goes to a good story to those involved in the design and making of your boots. Many thanks and best of luck. Frank.
The ponies are Shetland ponies and are in the process of shedding their winter coats. They are used for pulling carriages. The boots have been worn a lot recently and are very comfortable.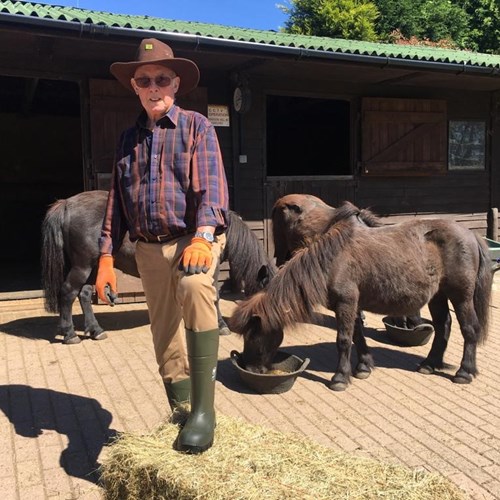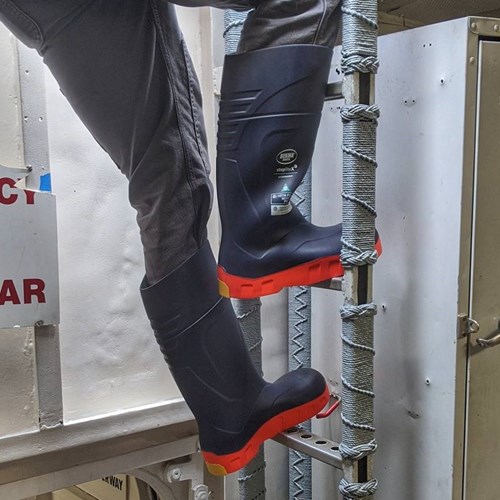 The boots are great for going up and down slippery steps!
I live in Germany and work on my parents' dairy farm every day and enjoy working there. I wear my Bekina Boots every day and I am convinced of the boots. They fit perfectly, are comfortable, are feather-light despite the steel cap and have a great grip. I love my Bekina Boots!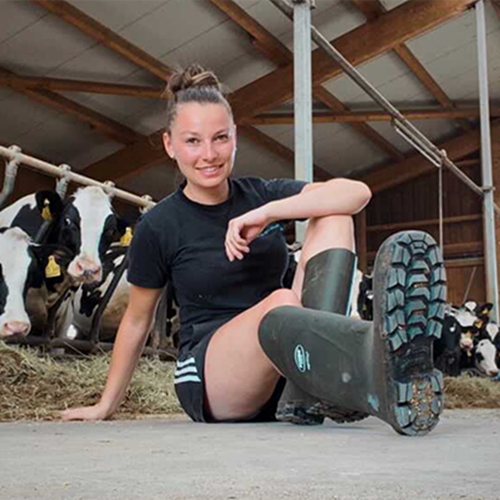 Do you have a story to tell?
People all over the world enjoy wearing Bekina Boots professional safety wellies.
Not only because they feel safe and protected in our wellies. The high level of comfort is also highly appreciated.
Would you like to share your experiences with us?