StepliteX ThermoProtec, non-metallic toe cap and midsole (S5), orange
---
---
Properties
non-metallic toe cap and anti-perforation sole: makes the boot lighter and warmer
cut resistant
ladder grip in sole for extra security
wider fit
excellent grip, even on wet and greasy surfaces (SRC certified)
thick outsole: high insulation for extra warm feet
resistant to fats, manure and a variety of chemicals
PVC free
RFID incl.
For the Antarctic season in Port Lockroy 2019/2020 I have worn the green StepliteX ThermoProtec boots. The boots have been sensational! Not a natural on uneven surfaces or snow, footwear was a vital part of a safe and easy existence down south and with the excellent grip technology I have stayed vertical the entire time. My feet have been both warm and dry despite the freezing temperatures and snowy terrain. Overall 10/10.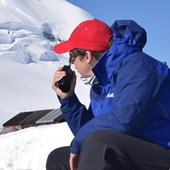 Lauren E.